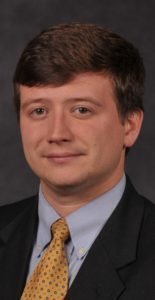 Daniel L. Ellis
Attorney at Law and Civil and Family Mediator, Specially Trained in Domestic Violence Issues
Daniel L. Ellis, Esq.
Daniel L. Ellis is an experienced attorney who has advocated for individuals, nonprofits and businesses in numerous areas of law. Daniel L. Ellis was selected by his peers a Rising Star by Super Lawyers from 2016 to 2019 and has been recognized as a Top Rated Administrative Law Attorney in Knoxville, Tennessee.  Daniel has represented individuals in Security Clearance Hearings, Appeals and in consultations regarding Letters of Interrogatory and Questionaries' for National Security Positions (QNSP)(SF-86 /eQIP). Daniel has helped governmental contractors and the government keep high quality employees serving the national interest through his representation of individual employees in security clearance hearings and security clearance appeals since 2009. If you have a question for yourself, or for your employees about Security Clearance Law, then contact Daniel at 865-235-1787 without delay.
Daniel has also represented businesses and non-profits against claims seeking over one million dollars and has worked with a team of lawyers on a matter defending a nationally known business where multiple millions of dollars were potentially at stake. In each case, whether by successfully preparing, filing, and arguing a Motion for Summary Judgment, or filing Motions to Exclude Expert Witnesses that results in the non-suit or dismissal of a case, or by successful resolution of a case through extensive discovery, negotiation, and mediation – Daniel L. Ellis has helped to protect businesses and non-profits from litigation so they can get back to doing what they do best – serving their communities and their customers.
As a father of two kids, husband and native east Tennessean who grew up on a ninety plus acre farm in Anderson County, Tennessee, Daniel knows the importance of effective communication and being able to assert for what is right and work collaboratively within your community. Daniel is a Rule 31 Family and General Civil Mediator who has also been specially trained on Domestic Violence Issues. As an attorney, he believes in being ready and able argue, fight, and defend a case and in working collaboratively through negotiation and mediation to resolve complex family law cases in ways that support long term success for families in divorces, separations, and other related family law proceedings.
Daniel lives in Knoxville with his wife two kids and their two dogs.  Daniel is an avid creator in his spare time, whether it is woodworking, aquaponics, home improvement projects, or gardening, he likes to spend his time in the office working for clients and his time out of the office with his family and working with his hands.
Testimonials: See Testimonials Page.
Current Areas of Practice
Security Clearance Law – Representing Employees in Security Clearance Hearings and Security Clearance Appeals
Providing consultations to individuals regarding security clearances (access authorizations) including but not limited to questions regarding SF-86 (Standard form 86), eQIP, Questionnaire for National Security Positions, Summary of Security Concerns, Statement of Reasons, Letters of Interrogatory, the impact of criminal charges on holding a Top Secret, Secret, Q Clearance, L Clearance, Human Reliability Program (HRP) access, and potential eligibility for holding a clearance.
Litigation Percentage
80% of Practice devoted to Litigation and Appeals.
10% of Practice devoted to Last Will and Testaments; Powers of Attorney; Advance Care Plans and other Legal Document Preparation.
10% of Practice devoted to Consultation.
Bar Admissions
Tennessee, 2009
U.S. District Court Middle District of Tennessee, 2019
U.S. District Court Western District of Tennessee, 2021
Education
Classes/ Seminars/ Presentations
Co-Authored and Co-Presented, a Continuing Legal Education Seminar on Tennessee's Expungement Law and Certificates of Employability with Professor Joy Radice, March 31, 2016.
Panelist, Discussion of Rights and Responsibilities under the Americans with Disabilities Act, City of Knoxville's Accessibility Symposium, August 28, 2013.
Panelist, City of Knoxville Accessibility Symposium, August 23, 2013.
Presenter, Integrating Assistive Technology into the Practice of Law, Oak Ridge Chapter of CIVITAN Club, at the High Places Community Church, July 14, 2010.
Presenter, Integrating Assistive Technology into Everyday Life: From Grade School to the Workplace, Oak Ridge CIVITAN Club, at the High Places Community Church, July 14, 2010.
Presenter, Integrating Assistive Technology into the Practice of Law, East Tennessee Chapter of the Tennessee Paralegal Association, September 17, 2009.
Panelist, Knoxville Public Meeting on Access to Justice Issues, February 26, 2009 – February 29, 2009.
Seminar, Title 1 Firearms and Their Regulation, for the National Business Institute's 2016 Gun Law Continuing Legal Education Seminar, April 7, 2016.
Honors and Awards
2023

City View Top Attorney in the area of Social Security Disability (a proxy for Disability Law)

2009

Donald F. Paine Volunteer Law Student Award

2009

Tennessee Bar Association's Law Student Volunteer of the Year Award

2009

South-East Regional Representation in Mediation Moot Court Champions

2009

William M. Leech, Jr. Public Service Award

2008

Baker, Donelson, Bearman, Caldwell & Berkowitz Student Leadership Award Recipient

2007

Kolwyck Equal Access to Justice Fellow Recipient
Professional Associations and Memberships
Pro Bono Activities
Knoxville Bar Association's Access to Justice Committee Co-Chair, 2018 – Present

Learn more about upcoming free legal advice clinics – Here. 

Knoxville Bar Association's Barristers Access to Justice Committee Co-Chair, 2016 – 2018
Participates regularly in the Wills for Heroes Clinics for Knoxville Emergency First Responders, including Police Officers, Firefighters, and Emergency Medical Technicians
Knoxville Bar Association's Access to Justice Committee's Expungement Subcommittee Co-Chair 2015 – 2018
Board Member, Sertoma Center, 2016 – Present & Development Committee Co-Chair 2017 – 2020
Board Member, Emory Valley Center in Oak Ridge, Tennessee, from 2011 – 2016
Vestry member Episcopal Church of the Ascension, 2022 – Present. 
Articles
2022: Supported Decision Making, Daniel L. Ellis and Camron Hurt, for the Knoxville Bar Association Corporate Counsel's Quarterly Publication – The Consigliere, Vol. 17, No. 1, Spring 2022.
2021: Author of Effectively Communicating to Customers through Qualified Sign Language Interpreters, Knoxville Business Journal, Vol. 16, Issue 186, June 2021.

Also, published digitally in the Knoxville Bar Associations Lawyer Referral and Information Service (LRIS) News on November 3, 2021.

2016

, January 18: Ellis, Daniel L., GUEST COLUMN: Understanding Crowdfunding vs. Crowdsourcing, Teknovation.Biz

2014

: Ellis, Daniel L. and Martin L., Limiting Liability at Office Gatherings, Knoxville Business Journal, September 1, 2014.
Languages
English
Spanish (Minimal – Spanish 101, 102 Completed)
American Sign Language (Minimal – ASL 101 Completed)
Legal Questions? Call now at 865-235-1787!